San Mamés Stadium Tour
Feel the excitement of San Mamés
Visit the "Cathedral of Football", a stadium that has won awards as the best sports building in the world. Feel the sensations that football players and fans experience in San Mamés, the home of "The Lions".
Enjoy an unforgettable tour and experience football from the inside.
World Design Awards

Highest distinction awarded in the category of Sports and Recreational Facilities (2020).

World Football Summit

Best Stadium of the year (2017).

The best new sports building
in the world

World Architecture Festival
Singapur (2015).
AC Museoa
Remember what you are, teach what you love
Delve into the history of a legendary club, whose philosophy and values are unique in the world of sport. Learn about more than a century of football through a remarkable collection of original pieces spanning the ages. Experience the emotion of San Mamés, the red and white heartbeat, a feeling that transcends football.
EMYA MUSEUM
AWARDS FINALIST (2020)
The children of 37 in the UK
Current exhibition.
Visitors can now see "The Children of '37 in the UK", Athletic Club's new temporary exhibition focusing on the story of the thousands of Basque children who were evacuated to the UK during the Spanish Civil War and who, in some cases, went on to compete at the top level of football, some of them even going on to play for the Lions.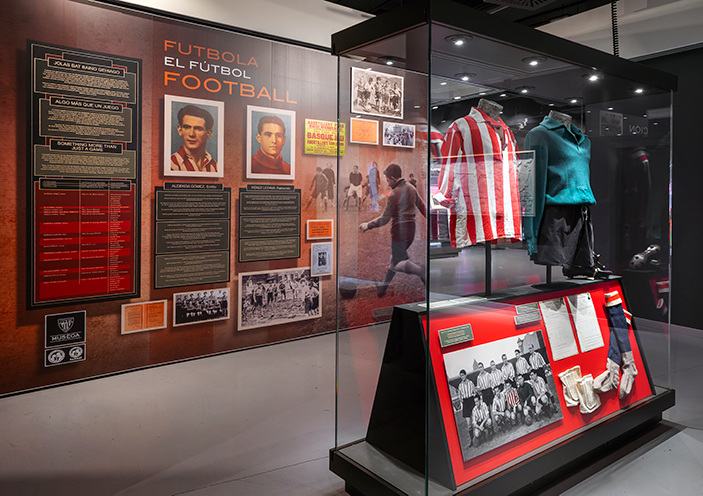 Colecction
The history of Athletic interpreted through some of its protagonists' objects.
The museum presents more than 1000 original objects and 900 videos to help you understand the essence and history of the Club since 1898.
Buy your tickets now and enjoy the museum and tour
Today
September 27
Opens until: 20:00