Discover the best photos of the San Mamés stadium and be amazed by one of the most renowned and acclaimed football stadiums.
This is not the first time that we have put together some of the best photos of the San Mamés ground. But this spot in Bilbao deserves it.
Among some of the best photos are, of course, those of San Mamés illuminated or all of those photos of the Cathedral of Football on Instagram that you can find.
The truth is that it is not hard to find stunning photos of this stadium or photos that surprise you, at least when you first see it.
Maybe this is due to its award-winning architecture or the history of San Mamés, but if you want to get a closer look and take some photos you have to know where to take the best pictures of the San Mamés stadium..
Where to take the best photos of San Mamés Stadium
1. If you go to San Mamés, you cannot miss out on taking a photo in front of the stadium, on the esplanade. The triumphal entry to San Mamés with its huge screen.
2. A photo of its architecture is also a must, above all its characteristic, semi-transparent, permeable façade, presenting an architectural work that stands out for its uniqueness, strengthening links with the city and the environment.
3. The interior. If you want one of the best snapshots of the San Mamés stadium, you need to photograph its interior too. To do this, you do not have to go to the ground on match days. It is possible to get a nice shot of the interior from one of its cafésor restaurants, or from one of its event venues in Bilbao.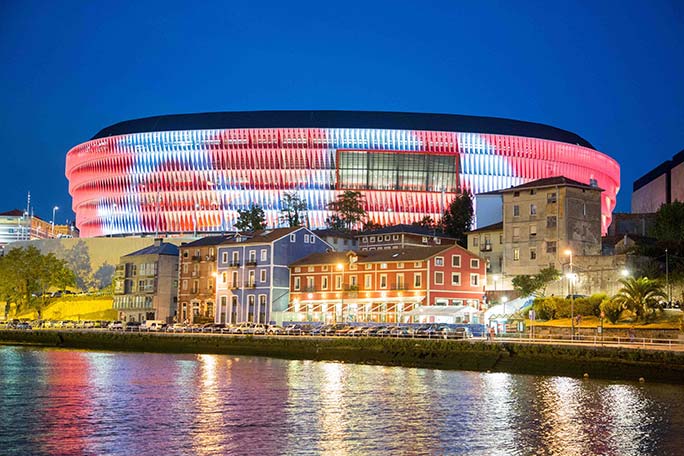 4. The classic panoramic view. One of the most typical panoramic views to which the inhabitants of Bilbao are accustomed is that of San Mamés. If you want to take a picture of it, you only have to cross the Euskalduna Bridge to glimpse its grandeur from the other side of the estuary.
Now all you have to do is take out your camera or your mobile phone and take a picture of this unique stadium.